Written by Jane Eveland & Heaven Wood
Are you wearing green today? Most of us see St. Patrick's Day as an excuse to pinch our neighbor and celebrate late into the night with great friends, great food, and even better booze. For local restaurants, St. Patrick's Day is a golden opportunity to attract new customers, try out traditional Irish plates and beverages, and profit from large party sizes with generous tips. As a restaurant owner, you've ordered ingredients for the famous meal of corned beef and cabbage and even installed a Guinness tap for the occasion. So how do you draw in the crowds to consume these specials while everyone else in your neighborhood is offering the same? With social media of course! Read on for a few tips to craft great social media posts to draw the party to your business on St. Patrick's Day.
Put In the Time
While we admittedly left this blog post a little close to Paddy's Day (sorry!), that doesn't mean this sage advice can't come in handy for other holidays as well! By carving out time to plan out your social media content, you won't end up with something that looks tacky and untrue to your brand. Create the hype with authentic Facebook, Twitter and Instagram posts letting people know how you will be celebrating the holiday.
Here's a great example of how to do this from Onward Chicago on Instagram: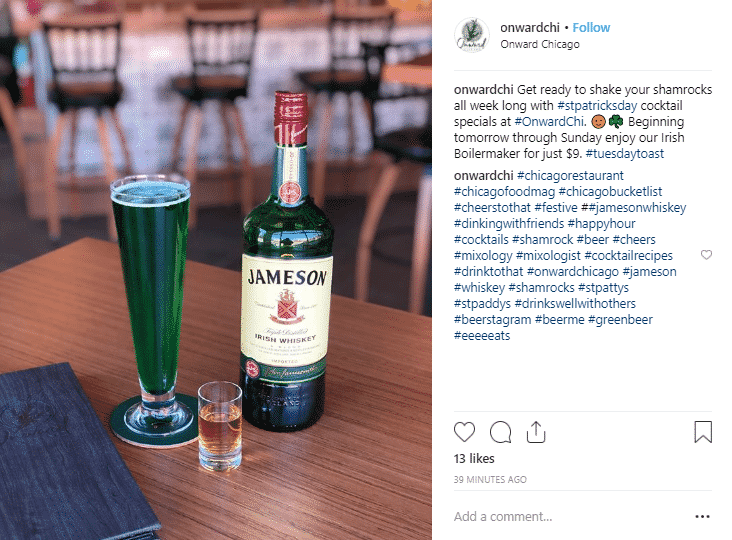 Here's an example of what not to do: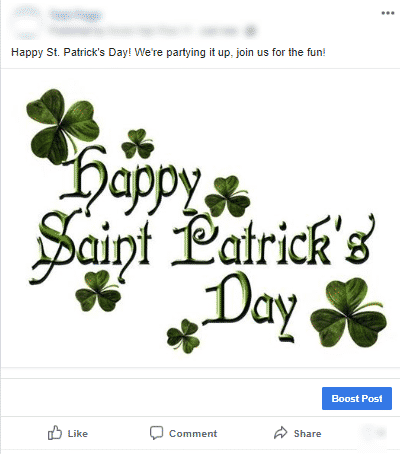 The first example is well thought out, it's polished and will most likely catch the attention of your followers and newcomers alike. The second example looks like a Googled photo that was slapped on the page haphazardly at the last minute. By using an eye-catching photo and including useful information like, if you'll be having a happy hour or if your guests get discounts when they wear green, it looks authentic and is a much more effective way of bringing in those Paddy's Day fun seekers!
Be Authentic
As a restaurant, it is critical that your social media is authentic, and truly reflects your own personality and voice. You want your fans to look at your posts and be able to feel a genuine connection with you. You would never want them to question if your post is actually coming from you. This means you should avoid those tacky, generic holiday e-cards at all costs. Seriously.
I also recommend utilizing Instagram stories for your specials, your Guinness taps being installed or of the decorations being put up to create hype. Instagram stories are more real-time and are quickly becoming the go-to place to explore when people head to social media. They can also get down to the heart of your business's personality and capture the spark that gives it life. Take advantage of that by staying active throughout the shenanigans!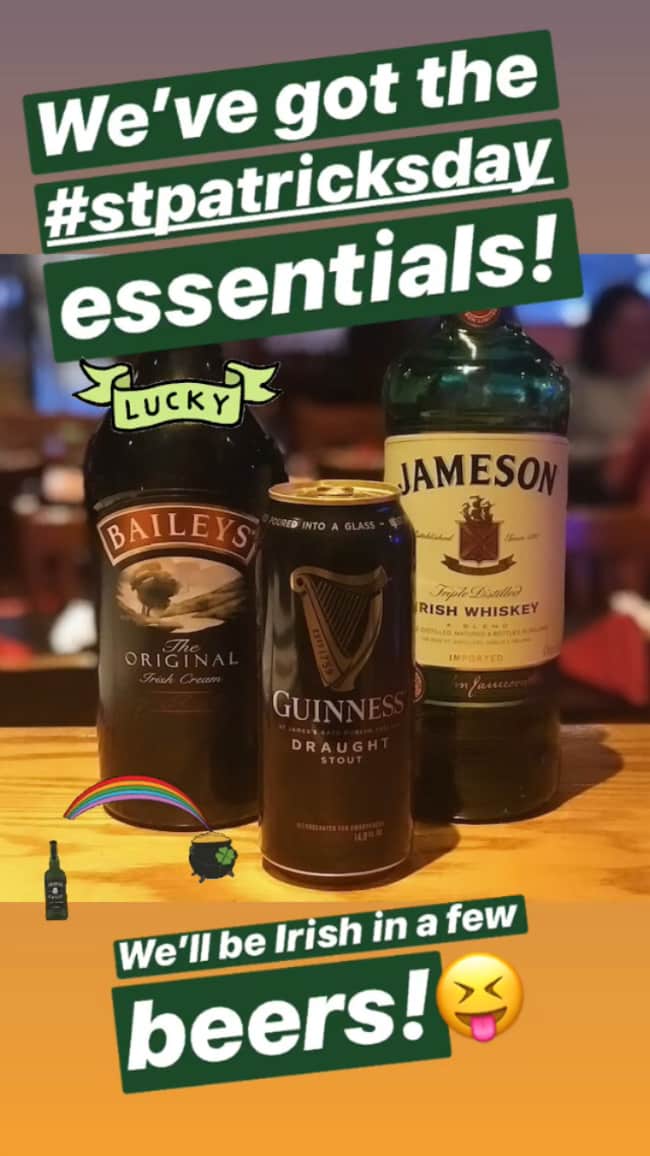 Highlight Community Events and Traditions
St. Patrick's Day weekend is often filled with festive events that are inclusive of all ages and interests. When posting on social media about your holiday deals and shindigs, it's important to promote local community celebrations too. Spend some time preparing your posts by figuring out what's happening in your city for St. Paddy's Day.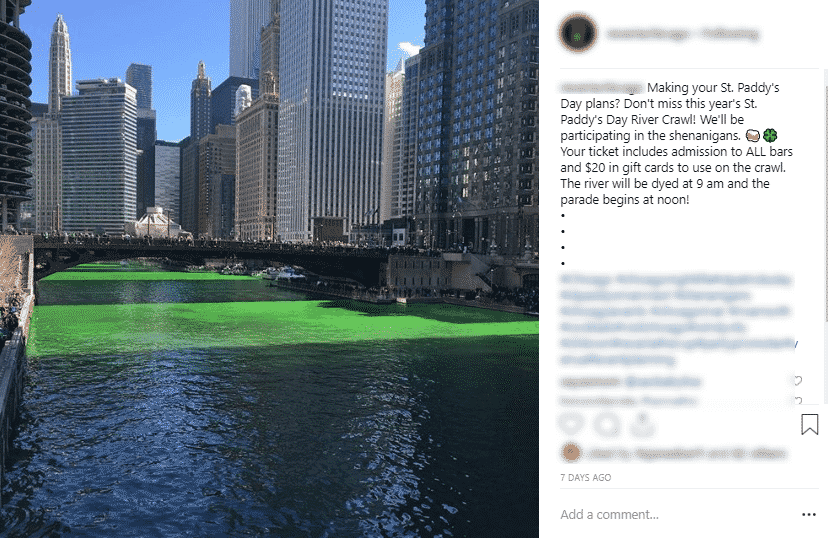 We also recommend creating Facebook events for happenings at your business a few weeks or days before the holiday. This lets people know that you are doing something special to commemorate the holiday. The other perk to creating Facebook events is that it will remind anyone 'interested' or 'going' to the event that it's happening several hours in advance! #Win
Pro tip: Use Facebook Ads to promote your event and get more visibility!
While St. Patrick might not approve of the way the day is celebrated, St. Patrick's Day has become internationally recognized as a day to drink up and indulge in traditional Irish fare. The first place people turn to find out what's happening around them is social media. We hope these tips on how to post for the holiday help your bar or restaurant stand out from the rest this year. If creating content seems like too much stress on top of an already busy holiday season – give Social High Rise a call and we'll handle it for you! 
Did you know?
We've been managing social media accounts for restaurants since 2012. For almost a decade, we've partnered with restauranteurs who are serious about using social media to generate business. Whether you're a good fit for our service or not, let's schedule a call and we'll give you free personalized advice on how to improve your social media presence. Either way, you'll walk away from the call more confident about your ability to promote yourself online - completely for free.