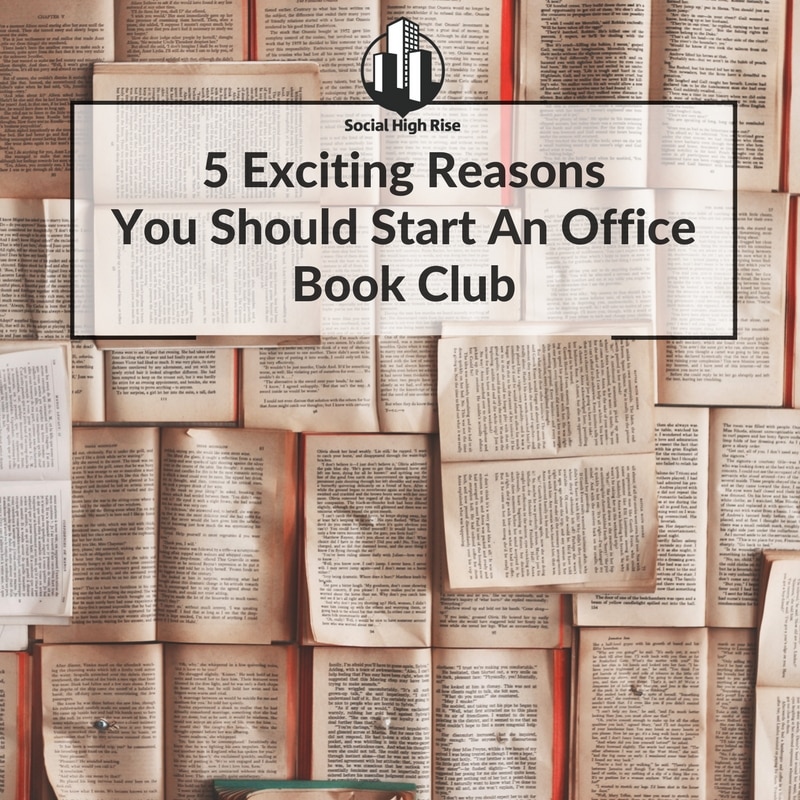 There's no such thing as being too well-read. I think it's fair to say that most people wish they read (or listened to audio-books) more often than they do. But work, friends, family, pets, social lives, and a million other things all get in the way of sitting down on the couch and focusing your full attention on a book for a while. A few months ago I threw out an idea to my colleagues about starting a company book club. To my delight, a lot of people were really into it! We've had four meetings now and it's been a really fun experience for all of us. Can't think of a good reason to try a book club at your workplace? Here are some of the reasons I love Social High Rise's Book Club.
1. Motivation to Read More
Let's be real here – reading a book for an hour or two a day really isn't hard. But with so many great podcasts to listen to, Netflix shows to binge watch, and yoga classes to attend, it can seem hard to find the time to pick up that novel you've been wanting to get through. A book club usually focuses on just one book a month, and with your colleagues holding you accountable to finishing that book before the meeting is a great way to start small and ensure that you get it done. Plus, you can talk about the book with your peers as you read it. Soon you'll be reading 200 books a year – it's really not that hard.
2. Continual Learning
A common complaint among young professionals is they often feel like they stop learning after college, but we all know that school isn't the only place where you can pick up valuable facts or skills. We can learn and grow from tons of different things: experiences, relationships, work, movies and TV, & of course, books. I'm not talking about just textbooks either. Every book, no matter the genre, contains something you can take away from it – new words, perspectives, facts, and new ideas that will only increase your creativity, empathy and knowledge. Plus, getting together with different people and having an open dialogue about a book can do a lot for your brain as well! When my colleagues and I meet to discuss a book, we come up with at least a few discussion questions beforehand to get the conversation started. Can you even imagine how smart this 4-year-old is going to be by the time she graduates college? #goals
3. Good Company and Good Conversation
One of the best parts about a book club is simply getting together with a group of smart, interesting people and having a discussion. We're all social creatures (even you introverts out there) and a book club meeting might sound stiff and boring, but it doesn't have to be. Make it casual and comfortable and the fun will happen naturally. It's also a great way to have a social activity without spending a bunch of money. Can't afford to buy a book every month? Check out the library! Or ask to borrow a copy of someone else's once they finish it. One quick rule that should be relatively easy to follow though: don't talk about work. You're there to talk about the book, not the office.
4. Relax!
Reading a book is relaxing. It's a great thing to do to get the morning started off right, or to wind down after a long and hectic day. Even reading for up to just 6 minutes can be enough to reduce stress levels. "It really doesn't matter what book you read, by losing yourself in a thoroughly engrossing book you can escape from the worries and stresses of the everyday world and spend a while exploring the domain of the author's imagination," study researcher Dr. David Lewis told The Telegraph.
5. Diversify What You Read
Many of us bibliophiles tend to stick with reading books in just a small few specific genres. That's all fine and dandy, but discovering whole new genres that you never knew or thought you would enjoy is magic! With a book club, you're guaranteed to end up reading a fair amount of books you never would have otherwise picked up. I find this to be extremely fun and rewarding. It really does expand your comfort zone, both in the bookstore and in your brain!
Bonus: SNACKS!
You can't have a book club meeting without something to munch on. We try to come up with a theme for each month's meeting, depending on the time of year and/or the book we're reading. For example, in March we had a Spring themed meeting. People showed up with bright lemonades, veggies in tiny pots, and bunny ear cheesecakes. Another month our book genre was "world literature" so we had everyone bring something that was typical of another country. So much fun!
Have you been inspired to start a book club at your office? Or at least to make a little more time to finally read that novel your friend lent you months ago? If you do want to take the next step to starting a book club of your very own, check out these excellent tips from Brit+Co to make sure your book club doesn't become just a wine club. Happy reading!
Did you know?
We've been managing social media accounts for restaurants since 2012. For almost a decade, we've partnered with restauranteurs who are serious about using social media to generate business. Whether you're a good fit for our service or not, let's schedule a call and we'll give you free personalized advice on how to improve your social media presence. Either way, you'll walk away from the call more confident about your ability to promote yourself online - completely for free.