Written by: Heaven Wood
Being a successful business is about more than pleasing employees or even customers. You have to prioritize the company budget too and foosball tables aren't cheap! No worries. There are plenty of low-cost incentives to motivate your employees, and I'm here to help! As a soon-to-be college grad, I have a personal interest in starting my career at an organization that values everyday hustle from its employees and know how to incentivize them to stay motivated. I'm also aware of how valuable cost-effective and functional incentives can be to startups, like Social High Rise. You could easily Google 'low-cost incentives for employees' and get literally thousands of results, but I'm here to share with you five simple and cost-effective practices used here at SHR that you can start utilizing today to increase employee motivation and engagement!
Shout-Outs Or Words of Appreciation
One of the most influential motivators is kind words, recognizing the individual for their performance or achievements on the job or even in their personal life. These words of appreciation can also recognize behavior you want to be replicated by other employees. Social High Rise Account Manager, Jane, agrees that the sharing of individual and team accomplishments is one of the most common motivators used at SHR to get the whole team inspired.
Leaders who want their employees to continue performing excellently should put energy into noticing the little things and acknowledging their employees. They can do this through thank-you cards, signed by all the staff members, or shout-outs of appreciation. More public displays of recognition can be executed through Slack or company communication platforms, giving all staff the opportunity to share their thoughts and congratulations. If you don't mind spending some cash, you can throw in gift cards or an actual trophy, like SHR's #Businessing Award.
Bring Your Pet to Work Day
Another practice that motivates SHR employees are open structure policies that allow team members to bring in their furry friends! Every employee is also an individual with relationships outside of the workplace, including the relationships they have with their pets. From day one, SHR encouraged me to bring my dog, Stickers, to the office and we've both enjoyed the lax environment. SHR has even allowed me to bring in my 9-year-old cousin who was staying with me over her spring break, and we loved the experience!
To highlight the key benefits mentioned in a previous SHR blog, the perks visiting animals include boosting morale, relieving stress, and fostering interaction between team members. While the perks of having a pet-friendly office might be stunningly simple, it's super effective in increasing employee motivation. These happy little visitors give the whole team work-life balance that ultimately increases their loyalty to the company and their motivation to get the job done.
Flex Space for Increased Creativity and Productivity
While there are both advantages and disadvantages to consider when implementing Flex Space benefits, the advantages have proven to far outweigh any complications in the eyes of both SHR leaders and employees. The key advantage for workers is the ability to meet personal care and family needs while prioritizing work hours during the times and at the places they know they'll have the most energy to perform their best. For leaders, MVP team members are kept onboard and the organization is respected for its commitment to employee work-life balance. Go team!
It's important to recognize the value of autonomy when implementing a flexible work environment. Employers have to really trust employees to get the job done and employees have to perform well enough to maintain trust and meet expectations. Still, the benefits outweigh the disadvantages. Josh, the SHR office manager, agrees that autonomy has allowed him to thrive in the position he was hired for. Same here, Josh!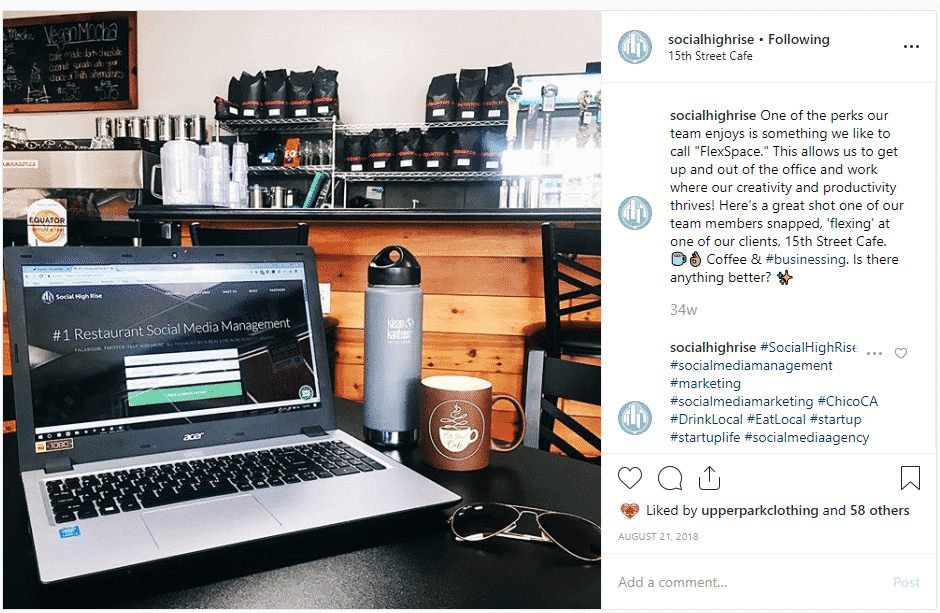 Brain Hack: Office Snacks!
The first three practices don't need to cost a thing and increase employee productivity and motivation exponentially, but office snacks are debatably the all-time best motivator for all workers. While other benefits are cool, what snacks can you offer us? This HR bulletin found that 88% of employees surveyed thought office snacks were important; I say the other 12% should eat more to find out how truly important they are! Office snacks are a fun brain hack and a smart organizational practice, given that office snacks and meals increase retention, productivity and give employees bonding opportunities.

Celebrate Good Times!
Social High Rise puts a lot of effort into celebrating the good times, including anniversaries, milestone achievements, and holidays. These celebrations don't need to cost anything, but they're absolutely beneficial to organizational health. If you're not doing these now, you should start ASAP! The organization's anniversary can be celebrated annually and used as a way to highlight achievements, remind followers of the organization's vision and values, and to celebrate how far you've all come as a team. Again, go team! Holiday parties go a long way in building a team that feels like family. The two holidays most celebrated at SHR are for Christmas and Halloween! Celebrating these events out of the office, such as at a park or at a nearby restaurant for a company-sponsored meal, can also be a huge morale booster.
Individual employee anniversaries, birthdays, and milestones can be celebrated a little more low-key, but should never be overlooked. They can be thanked with a handwritten card, a Slack shoutout, or a gift card. Acknowledge them at the next company meeting, allowing them to be recognized and celebrated with the whole team. Give a few comments about their performance and contributions too and, if you have time, leave the conversation open for other employees to pitch in.

If your organization already uses these practices, congratulations! Utilizing innovative and employee-friendly practices like these allow your organization to not only survive competitively but thrive too! If not, it's time to get on it. Employees like me are driven to improve our work performance for companies who take the time to do what's best for both the organization and the employees who work for it. Social High Rise excels at this, and your company can too! Are there any practices we left out that you use? Let us know!
Did you know?
We've been managing social media accounts for restaurants since 2012. For almost a decade, we've partnered with restauranteurs who are serious about using social media to generate business. Whether you're a good fit for our service or not, let's schedule a call and we'll give you free personalized advice on how to improve your social media presence. Either way, you'll walk away from the call more confident about your ability to promote yourself online - completely for free.