Written by: Amanda Vick
You know that feeling when you are shuffling through Instagram photos, surfing through your feed and you find yourself….hungry?  Since the launch of Instagram in 2010, 105.8 million photos have been posted with hashtags ranging from #pizza, #ramen and #tacos to just plain #avocado….so this might have something to do with your hunger pains. Instagram launched the story feature on their platform in 2016 which gave users the chance to post more photographs of food, more frequently.
An Instagram story holds the potential to boost your restaurant's following, engagement and customer loyalty. So, what kind of potential lies within an Instagram story and why should restaurant owners care? This blog gives you 5-tips to creating Instagram stories that will help your restaurant stand out from the rest.
Meet the Crew
What better way to connect to customers and build your brand than showcasing your own staff? Bring the camera 'round back and get everyone involved. Your cooks, your daily shipments of fresh ingredients, the employee of the month, anything and everything! Instagram Stories last 24 hours and just think of all that goes on and is accomplished at your restaurant in one day. Staying transparent and connected by posting daily to keep your followers interested is the way to go.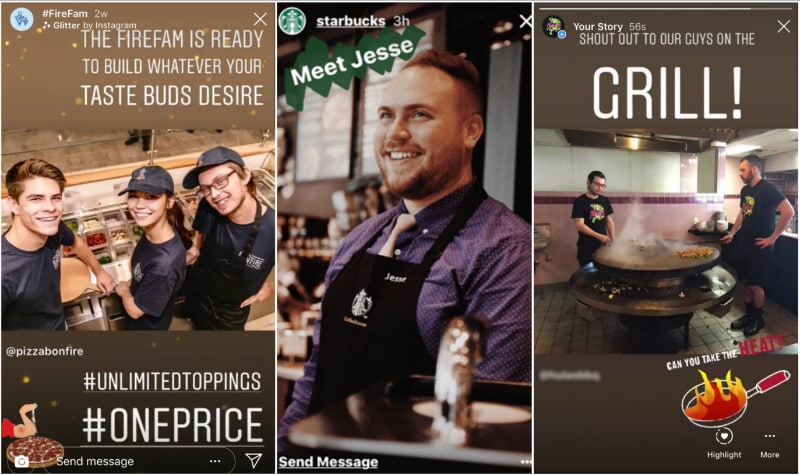 Showcase Your Menu
Food photography has skyrocketed across all platforms in the last five years. Due to this, tourism has also increased which has allowed the restaurant business to flourish. It's no secret that people eat with their eyes and have a soft spot for looking at delicious food online. If you have specials, promotions or very photogenic menu items, this is the place to showcase them! Don't be afraid to tag your location for the most online traffic because posts with a location are proven to get 79% more engagement. Instagram stories are chronological and don't follow an algorithm, so take advantage of this. Push out photographic content regularly to your audience so they see it right away.  
Share, Share, Share Some More
We can't stress this enough, re-post your guest's posts on your story using the sharing feature. It's the easiest way to post to your story and gets your customers and followers involved in your content. Instagram stories are best received when they are easy-to-digest. Sharing customer photos and testimonials to your business's story are the perfect way to interact with your following and add a creative flare.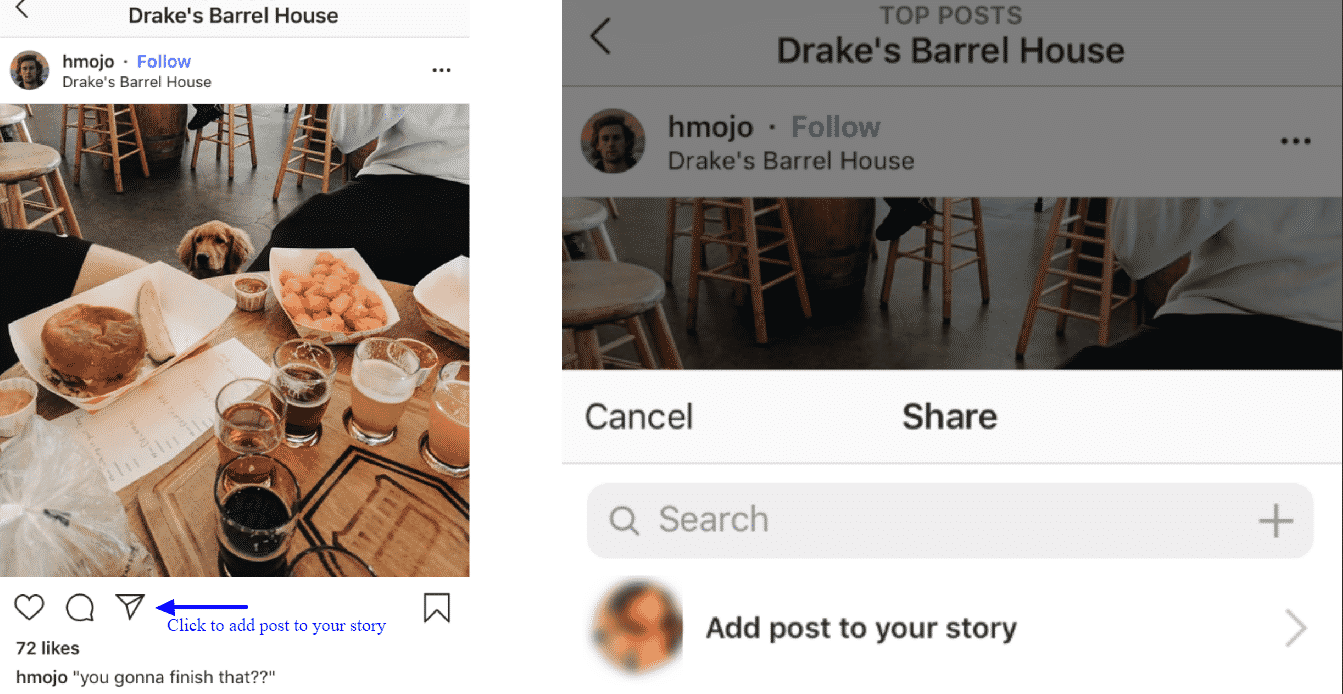 The delightful thing about the story feature is that it can act as a great attention grabber, that is, if you use it to your advantage. If you're talking at the camera, users will likely click past, because a talking head can be a bore. Take advantage of features like polls, filters, GIFS, and Boomerangs for variety.  Pro tip: one in five Instagram stories receives a direct message back! Be sure to check your DM's.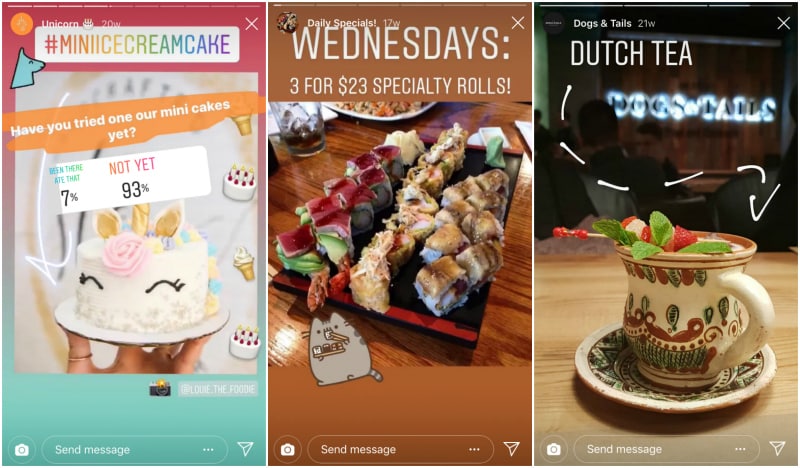 Consider making story highlights that live on your Instagram profile front and center and last longer than the usual 24-hour story.  Highlight things like cooking tips, ingredients, events, specials, staff or community involvement from your restaurant. This is a good way to keep your customers informed without overposting to your timeline. Highlights are a great eye-catcher because they act as click-bait when people visit your profile, especially if you choose to incorporate icons. This is a perfect promotional tool unique to Instagram. You can even highlight your reposts like this business, The Dolly Llama in LA did here. So be on the lookout for tags and repost, repost, repost!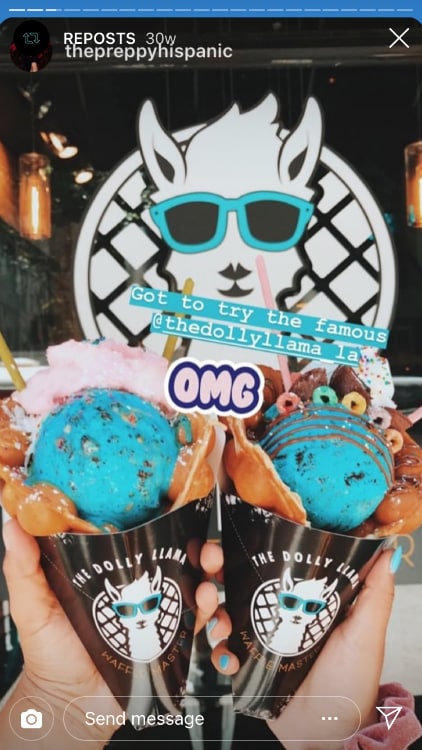 The "Perfect" Story
Instagram stories tend to be more polished and editable than Snapchat. In the age of the iPhone, we have the capability to snap high-quality pictures on the daily. Your Instagram story can showcase the quality and resolution that is sometimes compromised with Snapchat. The ideal story is one that incorporates announcements about restaurant events and updates and takes the pressure off of your main feed. What do we mean by pressure? Well, it is possible to post too much. By using the story feature you can share more often without spamming your followers with posts. Pro tip: promote your posts from your feed onto your story in order to get as many eyes on it as possible. Users can click to your post directly from your story!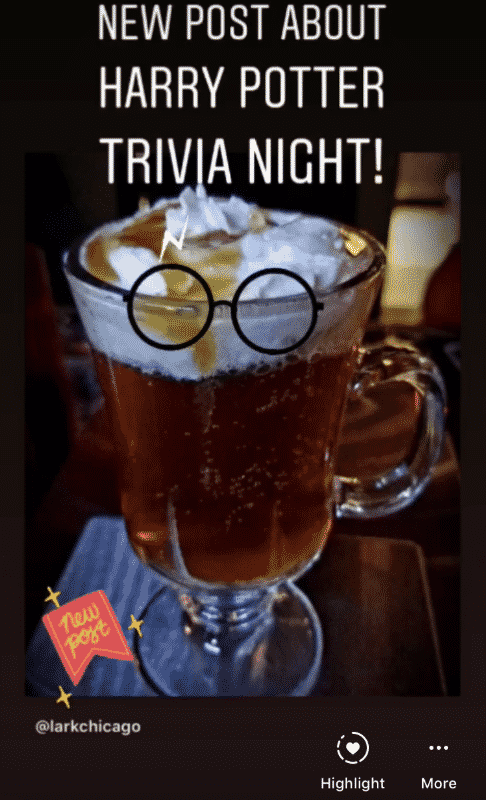 How It's Made
Everybody loves an aesthetically pleasing post. In my opinion, Instagram stories took this to the next level. The layout of an Instagram story is great for overhead-shot tutorials showing how a dish comes together.  It's more engaging to start with an empty plate and keep taking photos as you add each new ingredient. Pro tip: this is a great opportunity to add in a few Instagram polls. Ask your followers if they are excited or looking forward to what you have going on in the kitchen or coming up in-house.
Instagram stories have a 50% faster consumption rate than regular content according to the VP of Product at Instagram. Knowing this, it's important to switch it up and present your audience with engaging promotional content, often. Listed above are just a few ways that Instagram stories can top-off your restaurant's media presence. Have any other tips and tricks for promoting content using Instagram stories? Share with us in the comments! 
Did you know?
We've been managing social media accounts for restaurants since 2012. For almost a decade, we've partnered with restauranteurs who are serious about using social media to generate business. Whether you're a good fit for our service or not, let's schedule a call and we'll give you free personalized advice on how to improve your social media presence. Either way, you'll walk away from the call more confident about your ability to promote yourself online - completely for free.