Instagram easily takes the lead as being one of the most used social media platforms – especially because it reaches and influences younger demographics with visually appealing content. But what can Instagram do for your restaurant? Instagram can be a major tool for connecting with current and potential customers to showcase service and offerings. The first step is creating a business account instead of a personal account, which will empower you to view audience insights and run advertisements. In this guide, we'll show you how to create a business instagram account for your restaurant.

Converting your Instagram Account into a Business Account
Why should you think about converting your restaurant's Instagram profile into a business account? It's simple. While personal profiles are all about the basics (sharing photos, getting likes, etc.), Instagram business accounts get access to a ton of advanced features – the kind of features that will help you maximize your impact. If you want more insights about your followers, the ability to create targeted ads and easy contact options, you'll need to convert your restaurant's Instagram profile into a business account. The best thing about it? It's a completely free way to drive more traffic to your business.
Follow this quick tutorial on how to make your restaurant's Instagram profile a verified business below:

How to create a business Instagram account for your restaurant:

Step 1. Download the Instagram app from either the Apple Store or Google Play Store on your smartphone. Once you've installed the latest version of the app you are ready to start creating your account!

Step 2. Open the Instagram app and click on the "SIGN UP" button.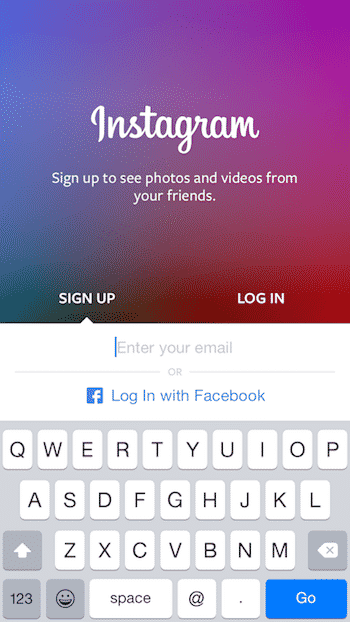 Step 3. You will then be prompted to create your account, where you will create a username and upload a profile picture. You'll want to make sure both are relevant to your restaurant, making it easy for customers to recognize your account.
Step 4. Once that is done your personal profile is created! It's time to convert it to a business profile. Access your personal Instagram page in the lower right corner.
Step 5. Once you're on your page, click on the three lines located in the upper top right corner. A sidebar will appear, click on settings at the bottom right of the page:
Go to your profile by tapping .
Tap in the top right.
Tap Settings.
Step 6. Under ACCOUNT click SWITCH TO BUSINESS PROFILE. Once you're there, there will be a popup window welcoming you to Instagram Business Tools. Instagram will prompt you with a 'Continue' screen, follow the steps on Instagram.
Step 7. Lastly, you will then link your restaurant's Facebook Business page with your Instagram page so you can have access to Instagram Business Tools (a.k.a. analytics and insights).
And that's it! If you got lost along the way, check out Instagram's quick video breakdown here.
Once you've converted the profile into a business account you can experience a ton of benefits. The most important resource for your restaurant will be Instagram insights, the app's built-in analytics tool. It provides in-depth information such as audience information (are your followers mostly male? female? split evenly?), what posts perform the best, and which cities most of your followers are located in – and that's just the beginning! Accessing this information can empower you to reach more customers and target people with more relevant types of content. This will result in better engagement, exposure and eventually, more customers too.
Have you converted your restaurant's Instagram account into a business profile yet?


You might also enjoy:
Did you know?
We've been managing social media accounts for restaurants since 2012. For almost a decade, we've partnered with restauranteurs who are serious about using social media to generate business. Whether you're a good fit for our service or not, let's schedule a call and we'll give you free personalized advice on how to improve your social media presence. Either way, you'll walk away from the call more confident about your ability to promote yourself online - completely for free.