Love is in the air, and restaurant owners can smell it. But how do you get Valentine's Day reservations for your restaurant?
Although it is not a national holiday, Valentine's Day is ranked the second busiest day of the year for restaurants, second only to Mother's Day. This is a prime opportunity for your restaurant to stand out amongst the competition by promoting reservations and specialty menus! The importance of this holiday is not lost on us at Social High Rise, so we're bringing you ways to get Valentine's Day reservations at your restaurant through social media.
Get with the trends
Valentine's Day is definitely trending on Twitter right now. So how do you use this to your restaurant's advantage? Join the bandwagon! By promoting Valentine's Day reservations on your restaurant's social media pages, you stay top of mind. When people think about making a reservation, they'll choose your eatery over the stuffy, old-school steakhouse who isn't up with the times.
Another trend to hop on is the unofficial holiday known as Galentine's Day  The holiday was first made popular by the fictional character Leslie Knope on the hit show Parks and Recreation. Dubbed as "the most wonderful day of the year," it is a time for ladies to come together and kick it "breakfast-style" the week or so before Valentine's Day.  Promoting your restaurant as a space for the gals to gather together will bring in revenue ahead of the usual Valentine's Day crowd, just as these restaurants did in New York. Who knows, maybe Galentine's will become more popular than Valentine's Day, and that's fine by us! Brunch, anyone?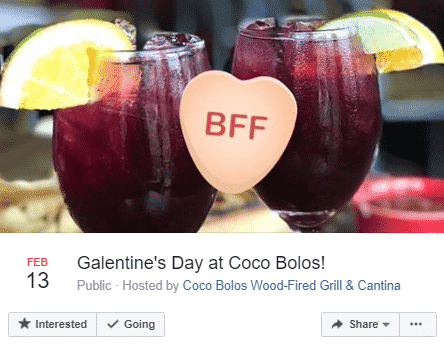 Table-toppers aren't enough — Highlight your Valentine's Day offerings on Instagram stories and with Facebook Ads
It's safe to say that many other restaurants had the brilliant idea of doing specialty menus and pricing for couples. But not all of them are good at promoting those offerings where it counts! At Social High Rise, we always preach that social media is not about blasting your followers with specials, because it's not. It pays to spend time creating thoughtful posts and social media advertisements to show off your romantic ambiance and innovative dishes leading up to the holiday to get people excited!
You can add reminders about your Valentine's Day dinner for two into posts and if it's appropriate, you can even create a Facebook event. Be sure to mention any fun specials or Galentine's celebrations you're doing on your restaurant's Instagram stories too! That's a great way to get the word out without spamming your followers with posts.
Pro tip: Avoid using cheesy fliers or graphics. When people think of Valentine's Day dates, they usually picture somewhere romantic that will impress their date. If they see a garish graphic highlighting a dinnertime special, it's likely they'll scroll right past it. Instead, try something like this: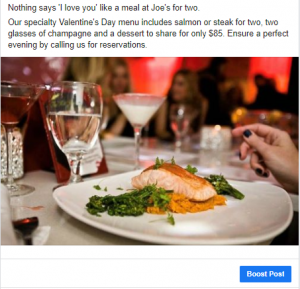 This would be a great post to promote through Facebook Ads too. With Facebook Ads, you can target people in your local area from their age down to their relationship status! If you're unsure how to create Facebook Ads, schedule a call with one of our experts to find out how Facebook Ads might best serve your business.
It can be hard to decide where to eat on Valentine's Day but your customers will, for lack of a better word, love you for sharing your in-house specials online.
You might be smitten with these useful tips, or you might feel overwhelmed. Enjoy the perks of having a dedicated account manager to tackle this side by Getting Started with us today!
Happy Valentine's Day!
Did you know?
We've been managing social media accounts for restaurants since 2012. For almost a decade, we've partnered with restauranteurs who are serious about using social media to generate business. Whether you're a good fit for our service or not, let's schedule a call and we'll give you free personalized advice on how to improve your social media presence. Either way, you'll walk away from the call more confident about your ability to promote yourself online - completely for free.