Are you a restaurant owner or manager looking to better promote your restaurant?
Figuring out the best way to promote your restaurant can sometimes seem daunting, but worry not; there are ways to build your brand and your customer following without burning through your available budget. In fact, there's one medium that you should be using effectively to promote your restaurant—that is, social media.
Yes, more than ever before, social media plays a major role in the success of your restaurant, in creating loyal customers and higher retention rates, and that's what we will cover in this article.
Promoting Your Restaurant with Social Media: The Key to Success
If you hadn't yet realized, traditional advertising has been dramatically sidelined by social media. Your presence on social media is paramount… Gone are the days of relying on billboards, tv ads, and direct mail advertising.
To promote your restaurant, you need a social media strategy that creates an in-house experience online. Indeed, this is the key to your restaurant's success; it's how you will attract and retain more customers.
Creating an In-House Experience Online Is Crucial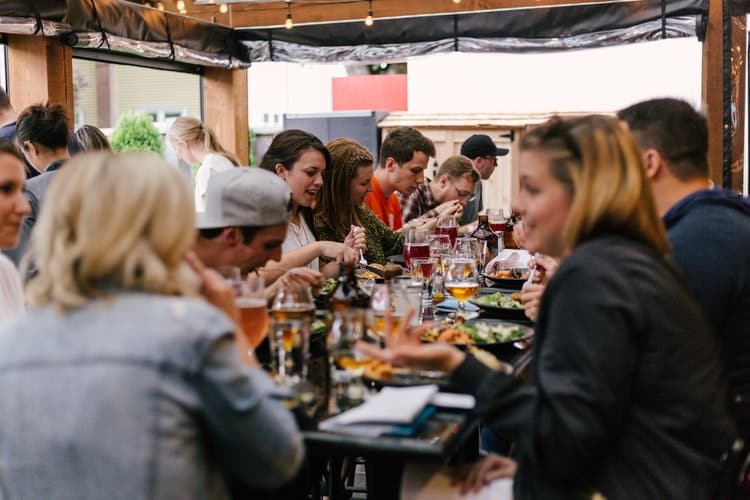 Consider this: According to a recent SproutSocial report, 91% of people believe in social media's power to connect people. Not to mention, when businesses invest in relationships through the use of social media and connect with their customers, 57% of those customerswill increase their spending with that business and 75% will buy from them over a competitor.
Have a Long-Term Social Media Strategy, Not One-Off Engagements
The connection your restaurant has to customers is highly influenced by how they engage on social media (surprise!). Sure, there are review sites, such as Yelp and Google, that allow you to respond to visitors' experiences; however, this engagement is reactive rather than proactive.
It doesn't define your brand. It doesn't allow you to truly connect with your customers. You are simply using reactionary and dated public relation (PR) tactics.
A similar path follows with traditional forms of advertising; you are talking at your customers, not with them.
Social Media Enables You to Enter the Hearts and Minds of Your Customers
Thus enters social media, which allows you to talk with your customers. This is the big difference. Rather than be a disruption, social media enables you to be a part of your customers' conversations. This is how you can truly promote your restaurant.
With long term engagement on social media, you even have the potential to enter the hearts and minds of your customers. So much so that your social media posts and advertisements are something that your prospects and customers want, crave, yearn for, and seek.
Having an Online Connection Can Be More Important Than the Transaction Itself
Yes, it's important to realize the power of interpersonal connections; indeed, people are more likely to be returning customers if you have established a relationship around the transaction.
In today's competitive landscape, you can't afford to just be another restaurant—you have to be a brand, and you have to continuously remind your visitors of the experience you offer on social media.
As a result, this is what your restaurant ultimately needs: a social media presence (e.g., Facebook, Instagram, Twitter, etc.) that extends your restaurant's experience when people are elsewhere and makes them want to come back.
How To Promote Your Restaurant: Create a Social Media Strategy Today
Your social media presence must be made with a cohesive voice and style, and it requires careful and strategic branding from social media experts. As you embark upon creating a social media strategy to promote your restaurant, consider the following questions:
Who is your target audience, and what social media platforms do they most frequent?
What kind of image do you want to portray online?
How can you best translate your in-house experience online?
What types of content will you post, and when?
Although these questions may seem overwhelming to you, our experts at Social High Rise can reduce the stress and ultimately ease the process by saving you time with our industry know-how and our expert experience in managing the social media presence for hundreds of restaurants across the country.
Did you know?
We've been managing social media accounts for restaurants since 2012. For almost a decade, we've partnered with restauranteurs who are serious about using social media to generate business. Whether you're a good fit for our service or not, let's schedule a call and we'll give you free personalized advice on how to improve your social media presence. Either way, you'll walk away from the call more confident about your ability to promote yourself online - completely for free.