A common snag when building your restaurant's social media pages is how to stay "on-brand." With so much to feature, it can be difficult to keep everything cohesive; but there's a huge benefit to finding your brand and sticking to it on your social media pages.

Consistent use of colors, language, and vibe make your posts stand out to your loyal followers; they know who you are and how you post and are more likely to interact with your content. For potential new followers/customers, they'll start to get a feel for your business and consider visiting.

Lauren Olsen from PageCloud argues that staying on-brand on your social media "helps make your stockpile of images and videos look like one curated collection, rather than a jumbled hoard of disconnected moments."

To stay "on brand" when posting on social media, I recommend thinking of your restaurant like a person.
What do they dress like?
How do they talk?
What's their personality?
If they had social media, what would they post?
How about some tips & tricks on how to do just that?
How to Stay On Brand:
Color and Aesthetic
One sure-fire way to stay "on-brand" is to find your aesthetic and stick to it. The colors and vibe you use on your social media should be reflective of your business.

Are you experimental and fresh with hand-painted plates and lots of succulents everywhere? Perhaps some natural greens and bold purples are for you.
Or perhaps you're traditional and regal with white table cloths and elegant glasses. Black, white, and gold may be a good way to go.
Keep this in mind when you're taking and editing photos. What personality are you trying to exude through your social media posts?
That. Exude that.

Check out the post above by Milk Bar. Their logo colors are a milky white (shocking, I know) and a candy pink – They were sure to carry that in their fun use of sunglasses!
Keep Things Fresh while still being on-brand!
Of course, that doesn't mean you can't shake things up! Your restaurant's aesthetic can be applied to all sorts of content in creative, interesting ways.

Varying up your posts is also a great way to keep your followers interested! Ashley D'Aubin from Crossroad Coach argues "…social media allows us to engage with our audience and we are wasting an opportunity if we only talk about one thing. Focusing on the same message can become boring. If it continues, we eventually become unliked. Unfollowed. Unfriended. Unread."

Be sure you're switching up what you post about as well. As a restaurant, you can rotate between:
Food
Drink
Team member
Customers
New menu items
And so much more!
Starbucks is a great example of an account that uses a variety of photos while keeping things cohesive. They do this by gradually rotating what items and vibe they highlight according to the season. Above are posts of theirs from summer and fall. Different seasons, different drinks, still sticking to that warm coffee house lewk.
Caption Game: Strong
Posting on social media isn't just about the pictures – the caption you choose is just as important!

Have you ever seen a wonderful photo and then looked at the caption to see "Lol, LiViNg My BeSt LiFe!!!1 #YOLO #Blessed#Influencer"
Yeah. Ok. Bye.

The caption can make or break your post, choose your words carefully.

Your wording needs to match your restaurant.
If you're a casual burger joint, using phrases like "perfectly curated" and "of the utmost quality" is a bit like…what? Who is this?
Vice versa, a high-end restaurant would look really strange saying, "So head on in, guys!"
Consider the customers you get through your doors and write as if you are speaking to them directly.

Pro-tip: Don't be afraid to experiment with emojis as well. Check out our blog on how to use them effectively!
Be Extra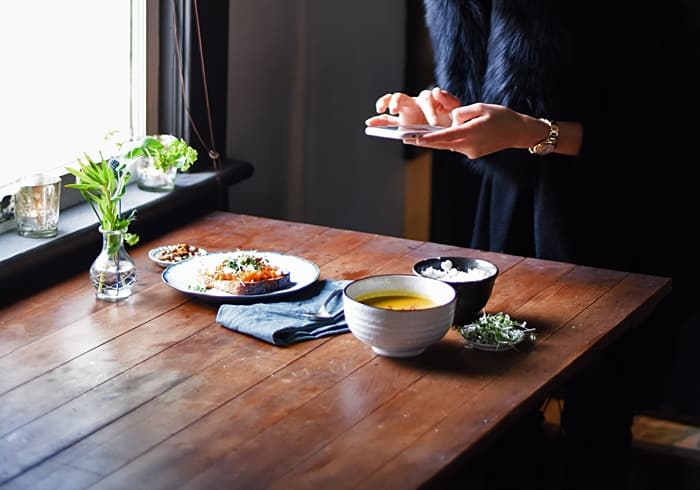 Source
An idea to try is to have something of your business' appear in most or all of your Instagrams.

Things to try:
Your menu
Your merchandise
A figurine relevant to your business
Tableware unique to your restaurant
A popular piece of decor
There. Now you're a prop-master too! Sure, it's a little extra but social media is a bit extra.
Roll with it.
What's a good way you've stayed "on brand?" for your restaurant or business? Share with us in the comments below!
Or, if you need more help with your restaurant's social media pages, visit our Blog for more tips!

Did you know?
We've been managing social media accounts for restaurants since 2012. For almost a decade, we've partnered with restauranteurs who are serious about using social media to generate business. Whether you're a good fit for our service or not, let's schedule a call and we'll give you free personalized advice on how to improve your social media presence. Either way, you'll walk away from the call more confident about your ability to promote yourself online - completely for free.