Written By Madison Pollak
If you're a restaurant owner then your world has probably been turned upside down by COVID-19 restrictions. Based on these restrictions, you've probably also debated this question: Should I use a third-party delivery service app for my restaurant?
Coronavirus has forced restaurants and bars around the world to close their dining rooms. While some states have allowed reopening, there's a long way to go until we get back to "normal."
To avoid closing doors entirely, many restaurant owners are turning to alternative solutions like takeout and third-party delivery services. If you're looking to sign up with third-party delivery sites, here are some factors to consider: is it worth the resources, time, and labor to sign up with GrubHub, DoorDash, or UberEats? Let's weigh out your options.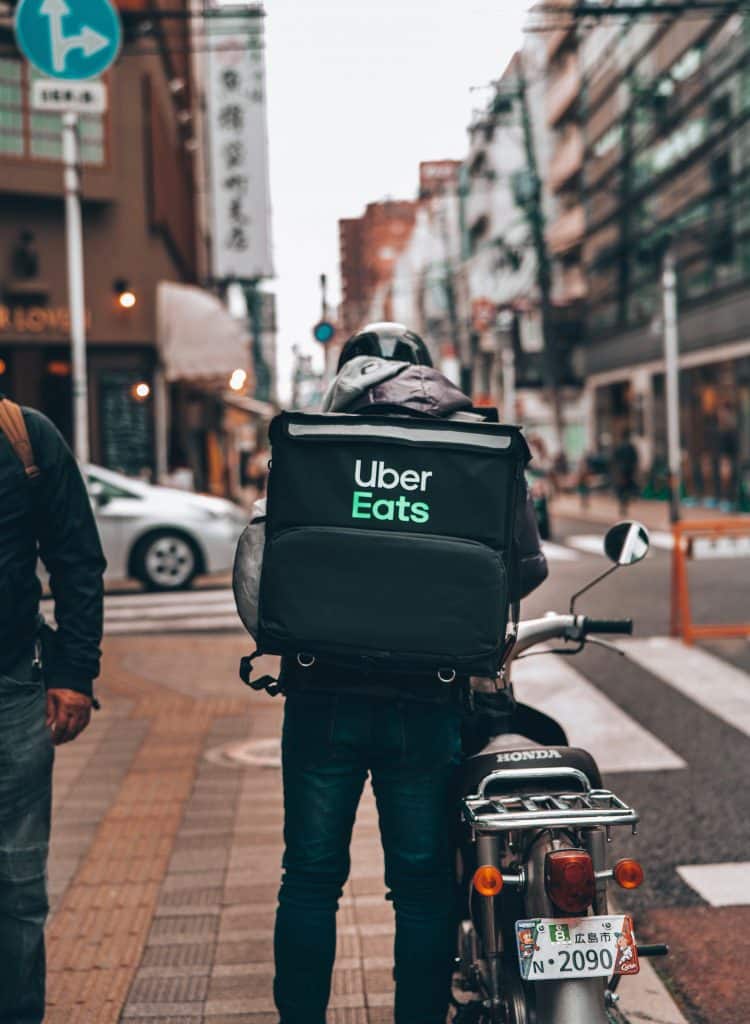 Food Delivery Services Defined
Most of us are familiar with third-party apps like UberEats or GrubHub. Many people are quite fond of their convenience. The consumer pays extra for speedy delivery service that requires no communication with another human (if all goes well) whatsoever. But at what cost to a restaurant owner? According to the Washington Post, third-party delivery sites typically collect between 10 and 30% of order fees from restaurant owners. That's a big chunk of profits for small business owners.
As reported by the New Yorker, delivery trends are growing rapidly and it's predicted that delivery orders will make up 40% of a restaurant's revenue in the future. Demand is rising, yet fees and service charges rise with it. What to do, what to do…
The Pros
Helps to eliminate face-to-face contact with customers
As COVID-19 restrictions take over as the "new norm", face-to-face contact needs to be cut to a minimum. Food delivery services have made it possible for restaurants to provide meals to customers with limited to no contact with others. Since the pandemic started, delivery sites have even added the option for the driver to leave orders at people's doors for a completely contactless experience. With those kinds of perks, it's tempting for a consumer to choose a restaurant with this option over another.
Restaurant growth and higher profits
Food delivery services make it possible to reach more customers. People are loving the opportunity to enjoy an amazing meal in the comfort of their own homes. The online app ordering exposes restaurants to new customers, meaning more profit. The New Yorker reported that restaurants are likely to increase their profits by 7% when they're registered for food delivery apps.
Less overhead
You don't have to worry about sending one of your employees to complete the deliveries. The delivery service does the grunt work. This also means restaurant owners don't have to worry about being short-staffed because one of your employees is out on a delivery.
The Cons
Sacrificing services to customers dining in
While delivery orders might increase your sales, restaurant owners need to be prepared for this spike in orders at a given time. You don't want your guests dining-in to suffer because you were trying to complete 12 orders from DoorDash. Wait times for food might increase and cause stress to employees and customers. Often resulting in negative reviews! 
Read more: Responding to Negative Reviews – A Restaurant Owner's Guide
Bad delivery experience can result in unhappy customers
Once you send an order off with a third-party delivery driver, your customer's food is in their hands. Literally and figuratively. As someone who deals with reviews regularly, it is not uncommon to receive negative feedback from customers solely based on their experience with DoorDash or GrubHub. There are lots of things that could go wrong – timeliness, cold food, wrong order – that could result in lost loyalty from customers.
Smaller profit margins
As mentioned, third-party delivery services cut into your profit and take a monetary portion of each delivered meal. If you're paying for a third-party service, you want to analyze your demographics. Consider how many people would take advantage of the service if you incorporated it. If your restaurant is in a college town or a big city with a younger demographic, that's a hot spot for delivery. If you're located in a more rural area, you might want to keep your business to dine-in or takeout only.
There are many other factors to take into consideration but one thing is for certain: food delivery trends are on the rise and here to stay, so it's smart to be thinking about this now.
It is not the strongest or the most intelligent who will survive but those who can best manage change. – Leon C. Megginson
The takeaway…
COVID-19 restrictions have forced restaurant owners to adjust their business models to accommodate takeout and delivery or close their doors completely. Leon C. Megginson, who wrote Small Business Management: An Entrepreneur's Guidebook, said, "It is not the strongest or the most intelligent who will survive but those who can best manage change." How you adapt to any change will define how well you survive it. Even after this pandemic comes to an end and people can dine in restaurants again, giving your customers options to enjoy a meal delivered right to their doors is something to be considered.
We hope we provided you with compelling pros and cons to guide you in the right direction to make the right decision for you, your community, and your business.
Stay safe and take care of one another!

Did you know?
We've been managing social media accounts for restaurants since 2012. For almost a decade, we've partnered with restauranteurs who are serious about using social media to generate business. Whether you're a good fit for our service or not, let's schedule a call and we'll give you free personalized advice on how to improve your social media presence. Either way, you'll walk away from the call more confident about your ability to promote yourself online - completely for free.