From a platform that most people thought was for sending NSFW photos, to a social app that has revolutionized the entire industry, Snapchat has come a long way in a short amount of time. It's unique idea of the 24-hour "stories" has now been replicated by some of the biggest platforms in today's high-tech world, namely Facebook and Instagram. Let's get serious, does anyone even bother taking selfies without a filter or lense on it anymore? Snapchat's newest update paves the way for a huge shift in social media platforms for the future.
Just a few days ago, Snapchat upped the ante once again by releasing their World Lenses feature. According to Paste, "The World Lenses are similar in concept to any Face Lenses in Snapchat, though the result is even more interesting. You can now throw these 3D stickers and words right into your Snapchat Stories." Even if you're social media illiterate, you've probably still seen photos of people with animated puppy ears or flower crowns imposed on their images. Those are Face Lenses.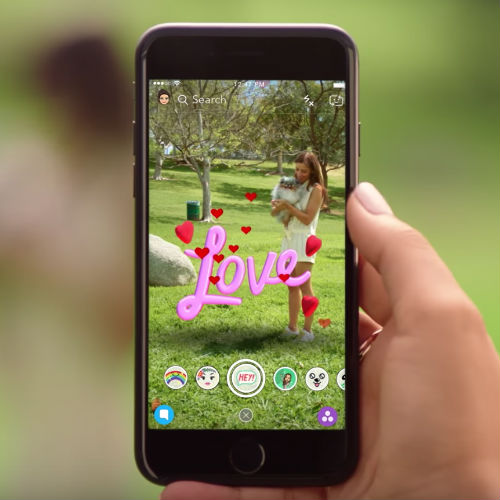 In order to use these new 3D features, here's  a quick guide:
First, ensure that your mobile app is updated to the newest version.

Once you've opened Snapchat, you'll want to make sure your camera is rear facing (the opposite of the selfie view).

Then just tap anywhere on your camera screen. You might see a white grid overlay appear for a second, but it should fade away.

Scroll through the various filters near the bottom of the screen (the themes of which are represented by the little circles).
Each lense is a little bit different – play around with all of them! In some, you have the ability to actually drag various objects (like words, rainbows, and speakers) around, make them bigger or smaller, and then effectively drop them into the view from the camera. Other filters will direct you to look down or around and you'll see things like stars or bubbles floating all around you. Just like the front-facing selfie filters, these 3D ones will also be updated daily!
What does this all mean? Snapchat is now officially tapping to the augmented reality (or AR) arena, and it's the first major social media site or app to do so. You've seen AR in games (PokemonGo, anyone?) and have probably heard a lot of techie people talk about it in terms of what it might look like in the future. Well, friends – the future is now. AR features could seriously revolutionize the way people use social media (hopefully not as depressingly as that Black Mirror episode). CNBC thinks that this newest Snapchat move "could also help Snap stay ahead of arch-competitor Facebook, whose Instagram Stories recently passed Snapchat in terms of daily users."
Although Snapchat is staying away from calling anything augmented reality, for the time being, this new update could represent a huge shift in social technology as we know it. This new feature is obviously an opportunity for Snapchat advertisers who want to create branded lenses. Moreover, World Lenses and augmented reality allow you to interact and influence your world in an entirely new way. Being the front runner in implementing AR technology, Snapchat is definitely positioning itself to set the pace for the future of social media from here on out.
How do you see AR influencing the way people use and interact with social media apps?
Did you know?
We've been managing social media accounts for restaurants since 2012. For almost a decade, we've partnered with restauranteurs who are serious about using social media to generate business. Whether you're a good fit for our service or not, let's schedule a call and we'll give you free personalized advice on how to improve your social media presence. Either way, you'll walk away from the call more confident about your ability to promote yourself online - completely for free.